Check Out The UMP Powerstroke Flyer in PDF Format - NEW!! Installed Photo HERE
NEW!! Install instructions with photos HERE NEW!! Standard VS "Chipped" comparison photo HERE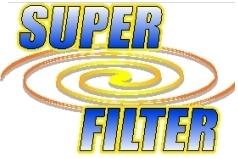 HOW MUCH MORE POWER DOES IT ADD?
A filter is not a pump, it cannot add any more air than the engine would take if it had no filter at all. Our big goal is engine life. Your expensive engine will make no power at all if not protected from dirt and dust that will destroy it. A turbocharged engine makes its power from the amount of boost it produces, a properly sized filter will not affect the amount of power the engine makes as power is controlled by the computer that determines the boost levels. A brand new stock Ford filter element flows sufficient air to feed your engine as Ford designed it. The problem is it is very small and gets dirty fast, which will affect power by limiting boost. In addition, the plastic housing is very leak prone and we have heard of several instances of the filter element being sucked into the intake hose to the turbo. This can't be good for power!
WHY PAPER INSTEAD OF OILED GAUZE?
Dry paper is the best filter media available for protecting your engine. Oiled gauze style filters do flow a lot of air because they are very porous until they get dirty. So how are you supposed to protect your engine until they get dirty? Plus, putting a replacement filter in your stock air box has not solved the design problems of the stock box; it still leaks and is small. The tractors that built the freeway you drove here on don't use oiled gauze to protect their investment, why should you settle for less?
HOW LONG DOES THE FILTER LAST?
It is impossible for us to tell how long your filter will last, it is based on the conditions you use your vehicle in. You should see two to three times the filter life of what you are using now. We recommend changing the filter when your Ford filter minder shows 25% or greater.
WHAT DOES IT FIT?
All Super Duty and Excursions with the Power Stroke Diesel option. It does not fit earlier than '99 Power Strokes and the very early '99's require a Ford intake hose available from Ford or us.
HOW LONG DOES IT TAKE TO INSTALL?
Installation is very simple requiring only basic hand tools. It takes longer to remove the stock air box and battery tray than to install the UMP filter kit. The battery is relocated a little farther forward and uses the stock hold down bolt, and the cables reinstall with no modification.
WHERE CAN I GET REPLACEMENT FILTERS?
The UMP Super filter comes with a premium Donaldson filter installed, we feel they are the highest quality available. They are available from us or there should be a heavy equipment filter supplier in your area. In addition, replacements are available or can be ordered from Napa.
DOES IT AFFECT MY WARRANTY?
No. Federal law prohibits manufacturers from voiding warranty claims if the after market part is not responsible for the damage. Since our filter is better than the original, there should be no issues. In addition, we have sent filters to Ford Engineering for testing and while we don't have an official blessing yet, the factory is recommending our filter kit to their dealers for customers with filter problems.